expertise and passion about Leadership!
alp is a European network of professionals who are passionate about leadership development, emotional intelligence and learning. alp's members combine academic and practitioners with backgrounds and experiences in the field of education, personal and organizational development from all over the world. alp members share a common passion in new approaches to leadership and in non-formal learning supporting the "opening up" of people's potential.
alp has been formally set up in 2011 in Austria as a non-profit organisation and has a wide European network with organisations and individuals active in the field of emotional intelligence and leadership.
alp's method is based on experiences, embodiment activities, deep reflection, promoting authenticity and self-discovery. alp members have a proven record in supporting adults in exploring their inner potential and leadership.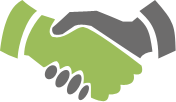 Team
Partners
Cooperating beyond borders is an important element for development and learning. Diverse realities and approaches allow for more than one perspective on common challenges and support everybody in finding creative and innovative solutions for the future. Find here some of our partners with whom alp is cooperating and cooperated in the last years and with whom alp is sharing similar values and working attitudes. Please click on the logo, if you want to know more about our partners.