SPACE
Street Participation for Active Citizenship in Europe
2 years project in the streets of Europe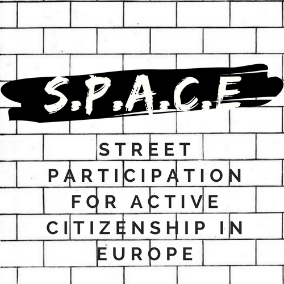 The 2013 Eurobarometer (European's Engagement in Participatory Democracy) was highlighting the need to strengthen active citizenship in Europe. Our democracy model based on representation is in a moment of crisis and most European citizens do not trust the political class any longer. As consequences, many citizens do not participate in public life – for instance he last EU Elections in 2014 had the lowest voter turnout – or express their views and opinions on European issues – more than two-thirds of Europeans (67%) say that their voice does not count in the EU – and a large part of the population is out of the democratic life and do not use well their citizen's right and the existing European tools of participation (EU Elections and petitions, citizens' dialogue, citizens' initiatives, Volunteering, Debating Europe, Consultations and Feedbacks).
On one hand, for the citizens of Europe, there are few accessible spaces for citizen's expression and initiatives and the European democratic debate do not integrate and valorise a real plurality of views. In the other hand, Local Authorities and Civil Society Organizations have difficulties to reach the citizens to facilitate their participation and they need innovative methods to communicate and inform the citizens about and promote EU tools of participation.
To challenge these citizen's participation issues, a Network of Towns (Local Authorities and Civil Society Organisations) from 11 EU countries + Neighboring Countries, usually involved in local democracy, thanks to the 24 months project "S.P.A.C.E.", will bring and carry the European debate in the street, closer to their disadvantaged citizens.
The SPACE project has improved conditions for civic and democratic participation at EU level and has encouraged democratic participation. Through some innovative methods of social interaction in the public space, 22 participants have been trained as "Street Facilitators" and have been acting as multipliers of "Street Debate". During 3 rounds of local events across Europe, these Street Facilitators have organised street workshops with a large participation of the citizens. All the views and opinions expressed have been collected and carried in a European dimension; citizen's voices has been valorised and brought up to the decision makers' level. Thanks to this grass-root stimulation of democracy, the participants have also created some innovative tools to inform in the street the citizens about the existing European tools of participation. The project "S.P.A.C.E.", by going into the streets across Europe, has enhanced the debate about the future of Europe, and has allowed the network of towns to have a long-term impact on the partner communities and at EU level, thanks to the tools, methods and to the dissemination tools produced (a guide and other deliverables).
To enjoy and use the tools that have been produced you can access the SPACE website.
To have some visual information you can see and download the final report here >>